by Laura Sexton
Being at University can certainly strip you of your money, and if you're not planning on getting a part time job whilst studying, you'll end up watching your bank balance go lower and lower. You may feel that this is out of your control and that no matter what you do, you're going to end up poor. The truth is that yes, of course your balance will get lower if you aren't earning but this doesn't mean that you'll have to be completely out of pocket for the rest of the year. There are certain useful tricks which that'll help ease the pain of spending money on those necessities which leave your wallet or purse feeling sorry for itself.
1. Be wary of supermarkets

It's easy to fall into supermarkets' traps of buying things on impulse, or buying things because they are on offer. Be careful, things on discount aren't always the better deal if you aren't going to use the products. Impulse buying is not your friend. When queuing up to pay, shops will always stock items of food or sweets that'll make you think 'Oh I may as well buy some of them, they're only a pound!' That's a pound that could be spent elsewhere.
Don't forget to check out the 8 tricks supermarkets play (which mean you pay more than you should.)
Food shopping can be hard when you're thrown into the deep end when moving away from home, but if you take long enough to look around and compare prices, you'll notice that different shops stock things at different prices and basic brands can taste just as good, while being better value - so take your time! Make a list of foods you need to get, look online at supermarket websites, write down all the prices, perhaps on a funky little notepad, and at the end compare and see which offer is the best value.
For more information about saving money in supermarkets, read our supermarket reductions, extreme couponing and supermarket receipt tricks guides
2. Keep an eye out for free money!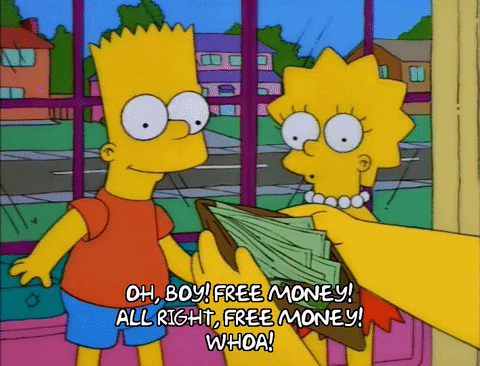 Watch out for money making opportunities. There is often easy money to be made from signing up to free products (which is free to do a lot of the time!). You can get a free £5 bank transfer for using the new AI powered chatbot, Cleo, on Facebook Messenger.
3. Don't waste dough on bread

Bread is always a difficult thing to deal with. Loaves tend to have short dates on them, meaning you feel like you have to eat a whole loaf in a couple of days. Unless you are intending on getting indigestion, it's probably not the best idea. So instead of storing your bread in a cupboard, pop it in the freezer. Get slices out when you need them and let them defrost. This way your bread will last ages and you won't feel as though you have wasted money, as you no longer will have to chuck out a half green loaf.
4. Free home delivery is more common than you think
Sometimes supermarkets aren't within walking distance, or if they are, they are just a bit too far to lug five bags full of heavy items. Have a look around on shop websites as you'll discover that most of them do home delivery- some days they deliver for free, especially if your shop is over a certain amount This is an absolutely life saver when it's pouring down with rain. If there's no free delivery available, shop online together with your housemates and share cost of delivery - after all, it could well work out cheaper than bus fare or paying for petrol.
5. Bills: the little things really do count
Once you're out of the comfort (ha!) of your halls of residence, you'll have to face up to bills. It's bad times. Gas and electricity are often measured on a meter, meaning that you can monitor the amount you use. If you want to be really frugal, then the obvious little tips such as putting extra layers on, or blankets in the winter to avoid having to put the heating on can save you a fair bit of money when the bills come through - you'll be surprised. Lots of heat can be lost under doorways and dodgy window fittings, so spare rugs down where you can.
6. Take(away) it or leave it

That's a truly dreadful pun. Sorry.
One of the perks of student years are all the fast food and takeaways. Takeaways are always marketed as a bargain option, so it's assume that ordering a takeaway will be cheaper than cooking up something. This simply isn't true: for example, if you fancy a roast dinner on a Sunday, it'll cost you under £3 to make yourself but likely over £6 if you go out for one. You mum was right: take away should be a treat. By sticking to fresh, home cooked foods, not only will you save money but you'll be healthier for it as well!
7. Budget (!!)
If you are particularly bad at saving money why not set yourself an allowance per week and get it out in cash. £30 is a good starting amount as it'll help out on food, washing and will still give you some left over for social events and activities. If you allow yourselves a certain amount it'll help you control how you spend and will help you work on your spending weaknesses.
Make sure you know how to budget with our 9 must-dos for budgeting.
8. Being social doesn't have to mean joining societies

During your first weeks at University you'll be filled with a can-do attitude and you'll be up for anything. There will be lots of offers to go on trips or join societies. But look - many clubs and societies charge a yearly fee so think carefully before you join. Why go out of pocket for nothing?
9. Plan your nights carefully
Clubbing as a fresher is a fantastic thing to do. But let's face it - it's pricey. Getting into clubs can often be more expensive than the drinks themselves, which can sometimes make you feel a bit robbed, especially if you're not even intending on buying a drink once you're inside, or staying for too long. Be on the lookout as some clubs' entry prices are cheaper before certain hours, or if you put your name on the guest list. I'm sure you'd rather turn up to a club at 10:00pm for £1 than at 11:00pm for £3. Sure, it's only a small difference in price but hey, it all adds up.