Get into a UK summer music festival for free
Want to see your favourite bands play live this summer, but not keen on forking out the eye-watering entry fees? You just might be in luck.
It's possible to gain entry to these events by volunteering for charities, like Oxfam and the Samaritans. You will need to do the work though and put down a refundable deposit just in case you run off as soon as you're through the ticket barrier. It's all for a good cause and you'll get the chance to see your favourite bands, it's a win-win situation!
Where can I volunteer?
Work can range from manning the charity stand, to litter picking and stewarding. You'll normally work in shifts over the weekend or event duration, which still allows ample time to go and see some live acts. Spots are filling up quickly for this year, so get your registration forms in asap.
The Samaritans offer support to all those attending festivals and events this summer. They will have a stand at Glastonbury, T in the Park and Download, to name but a few. They normally recruit for festival positions in January, but if you've expressed an interest to volunteer in the past it could be worth getting in touch to see if they have spots.
Oxfam also offer volunteering spots. Most of the biggies have gone, but you can apply to be on their waitlists. Reserve your spot now for Bestival (The Chemical Brothers headliners), Reading & Leeds (Mumford & Sons headliners) and Boardmasters (Faithless headliners). You'll be expected to work three shifts, which you can arrange to coincide with your friends and will get a meal ticket for each shift you work.
ActionAid's applications for Latitude Festival (Alt J headlines) close Wed 27 May, so get in there quickly. You'll work two x 2.5 hour shifts a day spreading the word about ActionAid by handing out freebies, manning their tent and helping with fundraising activities. You'll also be giving meal vouchers to cover food for the weekend.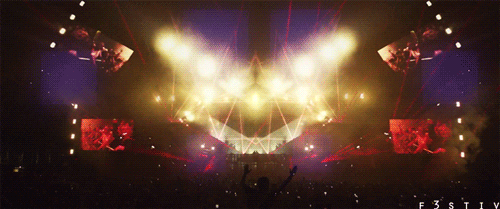 Get paid for your work
Other ways in are working the festivals by manning the car parks, giving directions... and even more litter picking. Much like volunteering, these roles involve giving over a deposit, which you'll get back once your job has been done. But, you might also get a small wage on top of this. The majority of their events require you to be 18+ and available for the entire duration of the festival, perfect for students.
DC services roles include anything from stewarding to litter teams and work at the big festivals like Reading & Leeds, Latitude and Glastonbury. You'll get free entry, meal tickets and will be paid for your work. See their events calendar to see which roles are available.
CTM (Cash and traffic management) have an eclectic range of events that they provide staff for, including Glastonbury, Jamie Oliver's Big Feastival and Wilderness festival. There are plenty of roles manning the car park, admission gates and general stewarding opportunities.
Festaff work 16 hours, normally in two shifts of eight hours. You'll be doing anything from manning ticket gates, handing out wristbands or serving behind the bar. There are still spots available for Bestival, Isle of Wight and T in the Park.
Seed Staff work between two and four shifts, which are up to eight hours long. This year there are roles still available at Electric Daisy Carnival and Creamfields. They have a mixture of paid and unpaid roles, so check before you apply. You'll normally need to pay a deposit for the festival, which you'll get back once you've finished the work. You'll also get meal vouchers for the duration of the festival.
Hotbox staff work in eight hour shifts over three days. Your job will be anything from giving directions to helping campers find a campsite. You'll need to pass a basic Police National Computer check, so get in there early to make sure it arrives in time. The site will also allow you to manage your shift preferences before the event, so you can try and work with your mates. There are still spots available for Reading, Leeds and Latitude.