How to be festival savvy
Written by SMS blogger, Olivia Thristan.
As a student, holidays are sometimes out of the question - especially ones abroad. But one thing Britain is great for every summer is festivals. As an avid festival goer myself, I thought I would share my tips for being festival savvy.
Food
Food is always the first thing on my mind, but with festival food costing an extortionate amount (seriously like £16 for a tiny pizza!), it's easy to blow through all your savings within the first day or two.
It's a clever idea to take your own food, especially if you are camping over the weekend. What kind of food to take to a festival? I'd recommend the tinned stuff, it's so much easier to pack and won't get squashed in your bag. Cereal bars are a win, as they're cheap and also pretty filling. BBQ food is a must at a festival. You might be cooking on the worst looking barbecue in history, but it's all part of the fun. A little tip, don't take anything which needs to be kept in the fridge, it won't end too well...
Fashion
Festival fashion is something always on people's minds, although I'm not too sure why as after the first day everyone looks pretty grim! I'd firstly say make-up isn't worth the effort, but for those who want to go for it why not, it could be a good time to experiment!
The weather at festivals is notoriously unpredictable, but fingers crossed it will be warm. You'll probably be in a huge crowd most of the time, so shorts and t-shirts are the way for me. I love wearing vintage band tees I think it's the best time to wear them and, of course, wellies. The mud at festivals is so bad, you will NEED wellies to stop you from sinking. Packing
Packing for festivals is something that always confuses people, as it's a lot like camping, there's a slightly higher risk you'll lose your stuff in the sea of tents. When you're packing: less is more. Essentials I'd recommend taking to a festival: a water bottle, because it's free to fill up at the taps and trust me you need a lot of water! A tent, try get the most unique looking one possible, because trying to find your tend in a field FULL of similar looking tents is pretty impossible, especially when you're drunk and in the dark!
Make sure you take lots of clothes, because yours are going to get wet, muddy and probably not safe to bring home! I'd recommend bringing around 10 t-shirts, even though it's only three-five days, you'll thank me later. A warm jumper, a sleeping bag and even a sleeping matt because the floor does get hard after a night or two and if you're not drunk, it's not comfy!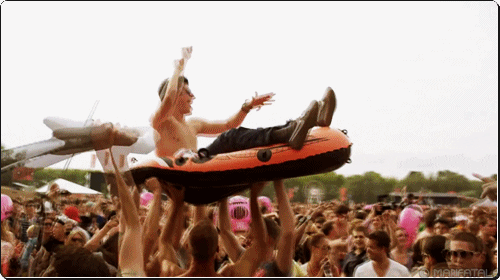 Money
Finally, MONEY. Obviously taking money to a festival is key and if you've forgotten anything you will be charged like crazy - deodorant will cost you about £8 for a can - so it's worth having the money there just in case. Things like alcohol and food can also get pretty expensive. I'd aim only to take what you can afford to and don't go crazy with your spending - you probably don't need to buy three rainbow ponchos to bring home with you.